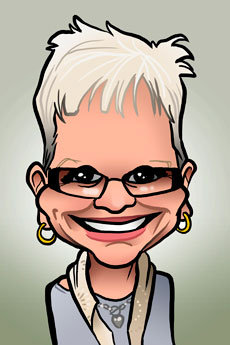 Sue Francis: Treece Team Office Manager and Tucson REALTOR®
The decision to retire to Tucson after a career as a computer programmer changed REALTOR® Sue Francis's life more than she could have ever expected. Not only did she find a new place to call home and many new friends, but she expanded her family as well. Sue also discovered a new career, one where she gets to meld her love of people and her interest in real estate.
"I love being around people and real estate allows me the opportunity to do just that," said Sue of her real estate career. "Being a member of Pam's team is awesome. We are family and friends first and foremost and that spills over to a work relationship that just can't be found anywhere else in this business."
Born in Germany, Sue moved around the world as a child with her family living in Montreal, Switzerland and then the United States. After graduating from high school, Sue pursued a career as a computer programmer, earning her Bachelor's in Computer Science from Rockhurst College in Kansas City, Missouri. When it came time to retire in 1998, Sue and her husband Keith relocated to Tucson where her REALTOR®, Pam Treece, helped them find a home. Little did they both know at the time that not only was a new friendship born, but that their families would blend many years later.
After some time as a retiree, Sue wanted to go back to work. In 2007, she decided to use her interest in real estate to launch a new career and joined Long Realty. There, her friendship with Pam Treece continued to blossom and Sue earned her real estate license and her Graduate REALTORS® Institute designation.
"I worked at the Dove Mountain Office as the listing coordinator and Pam worked in the same office," Sue said. "In 2010, my husband joined me and we formed our own team and worked together in real estate for five years. In June of 2014, he went back into baseball (he's a baseball coach at Canyon Del Oro High School) and I joined Pam's team."
Sue said the thing she likes most about working in real estate is getting to know people from around the world and building lasting relationships with them.
"A lot of my clients become long-term friends and I like the relationships you get to build all over the world," said Sue, who is fluent in German and likes the organizing and paperwork involved with the business.
Sue and Pam have watched their relationship continue to grow over the years and have even seen their families combine when their children wed in 2013. Sue enjoys her free time staying fit through yoga, swimming, and walking. She also enjoys gardening and reading.
For a successful and enjoyable real estate experience in Tucson and the surrounding market, contact Sue Francis today at (520) 245-4742.